For today's Fitness Friday link-up I am bringing y'all my weekly Dumbo training wrap-up. I decided that sharing my weekly Dumbo training PLUS my weekly workout recap was getting a bit too redundant (you're welcome), plus I like having the days to discuss other things about me besides just running. While it's an important part of who I am, it's not ALL I am and not all The Smith Summary is here for :)
So, here it is, my Running Bloggers Fitness Friday link-up!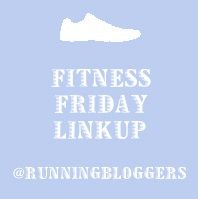 One of the best parts about the month of July is that I can now say I will be running the Dumbo Double Dare NEXT MONTH - is that not CRAY-ZY!!!!! Here's a look at week 10's training:
Dumbo Double Dare Training: Week 10
Tuesday: 45 minutes - done (4.16 miles at a 10:49 min/mile pace)
Thursday: 45 minutes - done (4.2 miles at a 10:42 min/mile pace)
Saturday: 2 mile walk. This will be done on the treadmill early Saturday morning because I have to work
Sunday: 9.5 miles. I am anxious about this one because it will be the furthest distance I have gone since the Germantown Half in March. I have been saving my Energybits sample to use for this run and I am excited about giving them a try! Oh, and just a hint of what's to come next week - a review of said Energybits and...a giveaway!! So make sure you stick around next week, you won't want to miss it!
This is the second week for doing back-to-backs and this one I think will be the true test of how tough running Dumbo might be. I think I am well prepared for running each distance but as the day approaches I get more anxious about running back-to-back days. I'm hoping this training run will put my mind at ease a bit. I'll be sure to give you a full report next week.
And finally, some Friday motivation:
Hope you all have a great weekend!
QOTD: Have you ever run back-to-back days? Give me some recommendations on recovery!