Time for our weekly Fitness Friday party with
Running Bloggers
!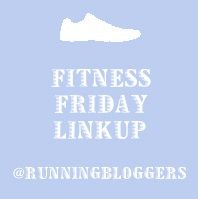 Last week we were at the lake so my workouts may not appear to be that impressive but we did do a lot of walking around and swimming so I'd say I had a successful week! Here's my recap:
Monday: 30 minute walk around the condos plus 10 minutes upper arm strength training using Sworkit (I packed my resistance band to use for this since packing hand weights didn't seem very practical...)
Tuesday: a HOT and HILLY 2.64 miles at 11:21 min/mile pace
Wednesday: 30 minute swim at the condo pool followed by 10 minutes ab work using Sworkit
Thursday: another HOT and HILLY 2.51 mile run at 11:57 min/mile pace
Friday: Nothing official on the books but we took the kids to the water park so we did a lot of walking and playing in the water (more to come on this in my vacay recap!)
Saturday: Travel/rest
Sunday: 3 miles back on my home turf at 10:24 min/mile pace - now that's more like it :)
On tap this weekend is an 8 mile training run, including the Ultimate 10K tomorrow morning so be sure to come back Monday for my race recap!
And finally, some Friday motivation :)
Yes sir, will do!
QOTD: Do you have slower runs on vacation??