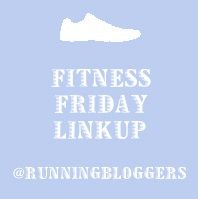 I usually do a weekly workout recap on Fridays but for some reason today I am just not in the mood - maybe it's the weather? Trust me, I have been having excellent workouts lately so I'll fill you in next week but for today I've got some random thoughts to share with you.
I am only $20 away from reaching my fundraising goal for the St. Jude Marathon!!! I cannot tell you how excited this makes me. I know I have been talking a lot about training for the Dumbo Double Dare but training for the St. Jude Marathon kinda goes hand-in-hand with that - I will take about a week off after Dumbo to rest and then I will be back at it getting ready for December 7th. I am very happy that I decided to run as a St. Jude Hero this year; it has already made my marathon experience so much more rewarding. I know my goal was only $500 but I would absolutely love to exceed that goal a few times over! If you would like to help me in my fundraising efforts simply click here to make a donation on my personal page. And thanks in advance :)
Secondly, I wanted to let you guys know that Kindrunner is extending it's FREE SOCK promo through the end of this month. If you buy a pair of shoes between now and Sunday you will get FREE SOCKS FOR LIFE! I love free things, don't you? I've already told you about all the great stuff going on at Kindrunner - so what are you waiting for? Click on my ambassador picture on the right to get to their website - and be kind!
I got to try Nuun for the first time yesterday! I had tried a small sip of it at the Oak Hall Run and I liked it ok but I was anxious to REALLY try it. My running buddy Kristan bought some of the Fruit Punch flavor on Wednesday but she didn't like it so she handed it over to me and I tried it for the first time before my run last night. I have to say I really enjoyed it! And even in the almost 90 degree weather last night with HIGH humidity I still rocked out on my 4+ mile run last and felt GREAT - was it the Nuun?? I'd like to think so :) That plus I did my 3:1 walk/run intervals because I'm not stupid and I know you gotta take it easy in the heat. I can't wait to try more flavors!
Speaking of trying new things, through the power of social media I came upon Energybits and I was sent a free sample to try this week! I have talked about my favorite fuels before here on the blog and if you guys recall, my tummy prefers the more natural fuels. Energybits are made of 100% spirulina algae - there are a lot of health benefits in these tiny pills! I am saving them to use before my 9.5 mile long run next weekend so be on the lookout for a review here on the blog!
I recently won a Sparkly Soul headband from a Twitter giveaway. I usually have a problem with headbands because they will either slip or they will squeeze my head so tight that it gives me a headache. I had heard of Sparkly Soul before and when I won a free headband I was so excited to give them a try and guess what? They don't slip! AND - they don't give me a headache! I sported this bad boy at my 10K last week and I am in love. I have a few more colors that I have added to my wish list that I hope I can get before I head to Disneyland in August!
That sounds like enough randomness for one day; I hope you all have a great weekend! Here's some Friday motivation for ya:
QOTD: What is your favorite Nuun flavor? Give me some recommendations folks!