TGIF! Time for this week's Fitness Friday link-up with
Running Bloggers
!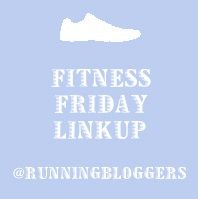 Here's how my workouts looked last week:
Monday: 26 minute weight loss elliptical program (don't know that I'll do that one again, I much prefer the resistance/RPM programs) plus 15 minutes of ab work using Sworkit
Tuesday: 4.24 mile run at 10:36 min/mile pace - felt a little shin pain in my right leg after this run...
Wednesday: 20 minutes of kickboxing using Jillian's Kickboxing Fast Fix (I LOVE this video!) and 10 minutes of additional lower body strength training using Sworkit
Thursday: 4.10 mile run at 10:58 min/mile pace - really felt the shin pain after this run so I decided I wasn't doing any more runs until I bought new shoes
Friday: Rest
Saturday: Rest and bought new shoes! Check out these bad boys:
These are Brooks Adrenaline 13s and so far I am LOVING them!!! I upgraded from my Adrenaline 12s
Sunday: 4x800 speed training - intervals at 10:17 min/mile
For the record, yes, that IS an Instagram photo - all the cool kids were doing it and I was behind the times so I officially signed up on Instagram over the weekend. Follow me by clicking on the link to the right!
On tap for this weekend is the Oak Hall Run for St. Jude - a quick 3 miler that fit perfectly into my Dumbo training plan and raises money for a wonderful cause! Get ready to see a lot more about raising money for St. Jude on the blog because I signed up for this year's marathon again on Wednesday - and this time, I'm a HERO! More to come on that, plus a race recap on Monday so make sure you drop by!
***Don't forget about my iPhone4 vinyl giveaway!***
QOTD: Anyone else bought new shoes lately??