TGIF! With my wonky work schedule this week it hardly seems like a Friday to me but nonetheless, here it is and that means it's time for Fitness Friday with
Running Bloggers
!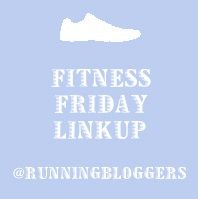 Last week was a pretty good week:
Monday: Rest - had to go to the doctor for my yearly check-up - good times. Funny enough, my blood pressure was up and I have to go back in a few weeks for a recheck. Seriously??
Tuesday: Ran 3.97 miles on the treadmill at an 11:20 min/mile pace
Wednesday: Ran 2.73 miles doing 4x800 speed training intervals on the treadmill, intervals at 10:21 min/mile pace, followed by 10 minutes of upper body strength training using Sworkit
Thursday: Zoom Through the Zoo - ran 4 miles at a 10:28 min/mile pace and set a new PR of 41:56!
Friday: Rest
Saturday: Ran 5 miles at 10:33 min/mile pace. This was a GREAT run - Owen had to work so I took the girls to my mom's house for some swimming and got my run in before hand. The weather was beautiful and I conquered several big hills in her neighborhood!
Sunday: Rest. Well, sort of. We ended up at the zoo for Member's Night so I'm sure I walked at least a mile there, maybe more.
And finally, some motivation to kick off your weekend:
Make it a great one!!!
QOTD: Anyone else been told they have high blood pressure? I honestly think mine that day can be attributed to having to climb two flights of stairs and having an iced latte from Panera en route...