Happy Friday! Time for our weekly
Running Bloggers
link-up!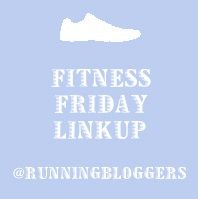 Last week was, well, so-so. Here's my recap:
Monday: 10 minutes resistance/RPM training on the elliptical - WHY only 10 minutes? Because it then broke.
So, I pulled out my favorite Kickboxing Fast Fix video and went to town, then followed that with 10 minutes of upper body strength training using Sworkit. **Thanks for my awesome hubby the elliptical is now fixed - thanks honey!**
Tuesday: Ran 4.53 miles at 9:56 min/mile pace - WHOA, check me out! I followed that with 15 minutes of lower body strength training, again, using Sworkit.
Wednesday: 6x800 4x800 speed training with intervals at a 10 min/mile pace. This was my absolute worst workout all week. It royally sucked. I don't know if it was a combination of poor fueling and the heat in my garage or what but I cut it short, as you can see. And I was mad at myself and sulked the rest of the night for it too.
Thursday: Ran 3.97 miles on the treadmill at an 11:20 min/mile pace - after the horrible speed training the afternoon before, I took it slow that morning.
Friday: Rest
Saturday: Ran 4.00 miles at 9:59 min/mile pace - much better ;)
I'm glad I managed to turn things around by the week's end - that speed training session on Wednesday about did me in! I need to get better about NOT letting bad runs get the best of me.
QOTD: How do you pick yourself up after a bad run?