All I can say is THANK GOODNESS it's finally Friday! And what an exciting Friday it has already been! First off, time for my weekly Fitness Friday link-up!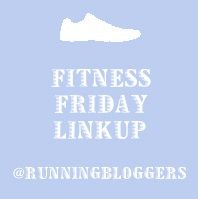 Here is my recap of last week's workouts:
Monday: 30 minute resistance/RPM workout on the elliptical
Tuesday: 4.09 #runforBoston at 10:19 min/mile pace
Wednesday: 2.76 mile run at 10:52 min/mile pace and ab work- it was EXTREMELY humid that night, I felt my lungs were going to explode. Not fun.
Thursday: 4.43 mile run at 10:09 min/mile pace
Friday: Rest
Saturday: Unintentional rest day - in my defense, I was going to get up early and crank out a few miles on the treadmill before work but Morgan woke up at, like, 4:30am. Turns out she has yet ANOTHER ear infection....stay tuned for more details on that...
Sunday: Earth Day 5K pacing my friend Andi
How were your workouts this week?
In other big news this Friday, runDisney has upped the ante, so to speak, by announcing the addition of a 10K race to the Princess Half Marathon weekend in February!
And - you guessed it - if you complete both the Enchanted 10K and the half marathon, you complete the Glass Slipper Challenge, complete with its own medal. Piggy-backing on the popularity of the Dumbo Double Dare and the Dopey challenge, I think, was a smart, smart move for runDisney! As for me, they had me at hello. Think I can talk Owen into a trip in February???
QOTD: How many of you are already planning to attend Princess weekend 2014??