TGIF! Boy, what a week! Time once again to link up with
Running Bloggers
for Fitness Friday!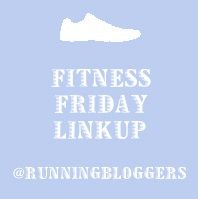 I was sick last week so this is really less than impressive, but oh well. Sometimes I think getting sick is our body's well of telling us we need to "simma down". Here's my weekly recap:
Monday: 45 minute resistance/RPM workout on the elliptical
Tuesday: 4.36 miles outside at 10:19 pace
Wednesday: sick
Thursday: sick
Friday: sick
Saturday: 4 miles at 10:45 pace
Sunday: 2 hours walking around the zoo with the girls
I can promise you that I am back on track this week and will have a much more impressive recap next week. This Sunday I am running the Earth Day 5K at Shelby Farms and I am very excited for several reasons:
1. The weather is going to be BEAUTIFUL
2. This was my first 5K last year when I started running
3. I am not aiming for a personal goal, but rather I am pacing my friend Andi for the first time to earn HER a PR! This will be the first time I've paced anyone and I am really excited about it!
Tune in Monday for my recap!
QOTD: Have you ever paced a friend in a race? Please leave me some tips in the comments!