It's Friday - that means, time to link up with
Running Bloggers
for Fitness Friday!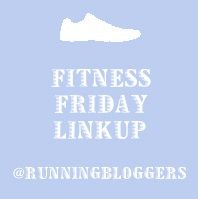 Here's a look at my workouts from last week:
Monday: 45 minute resistance/RPM elliptical workout
Tuesday: 4.05 mile run on the treadmill at 11:06 min/mile pace
Wednesday: 20 minute kickboxing/strength training workout using Jillian's FastFix video
Thursday: 4.06 mile run on the treadmill at 11:05 min/mile pace
Friday: Another 20 minutes with Jillian (we did a new move called a donkey kick and I felt it for DAYS)
Saturday: 6x800 speed training with 10:21 min/mile pace for the intervals, 3 minute walk in between
Sunday: Rest!
Unfortunately I have learned the hard way this week that I think I need another rest day in my schedule because seasonal allergies got the best of me and I had to completely rest on Wednesday and Thursday - hence my blog has been kinda silent this week except for
this
lovely picture on Wednesday. I rarely take self pics and more rarely do I post them on here but I took this one this morning because I am wearing my new I Run This Body shirt from
Mile Posts
:
Owen said I needed to add "Into The Ground" at the bottom since I've been sick this week - LOL
QOTD: Who else feels REALLY guilty for missing a workout when they are sick??