It's time once again to link up with
Running Bloggers
for Fitness Friday!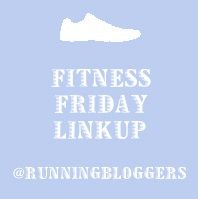 Here is a recap of last week's workouts:
Monday: Post half rest day
Tuesday: 45 minute resistance/RPM workout on the elliptical
Wednesday: 30 minute aerobics DVD with strength training
Thursday: 3.41 mile treadmill run at 11:43 min/mile pace
Friday: 45 minute circuit training DVD with strength training
Saturday: 4x800 speed training at 10:45min/mile pace with 3 minute walk breaks in between
Sunday: REST!
I sure hope this speed training helps me PR at the 5K for Freedom tomorrow, and that the rain holds off long enough for us to run! Come back Monday for my recap!!