We took a short weekend trip to the lake this past weekend. The weather was less than cooperative but we still had a good time - AND - it was Morgan's first road trip! Here are some pics!!!
Walking Along Bath House Row
Eating at Our Favorite Ice Cream Shop, Scoops
Getting Ready for a Swim!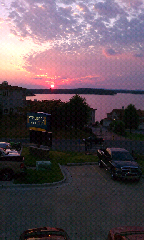 Sunset View from Our Hotel Window